3 Easy Beach Day Hacks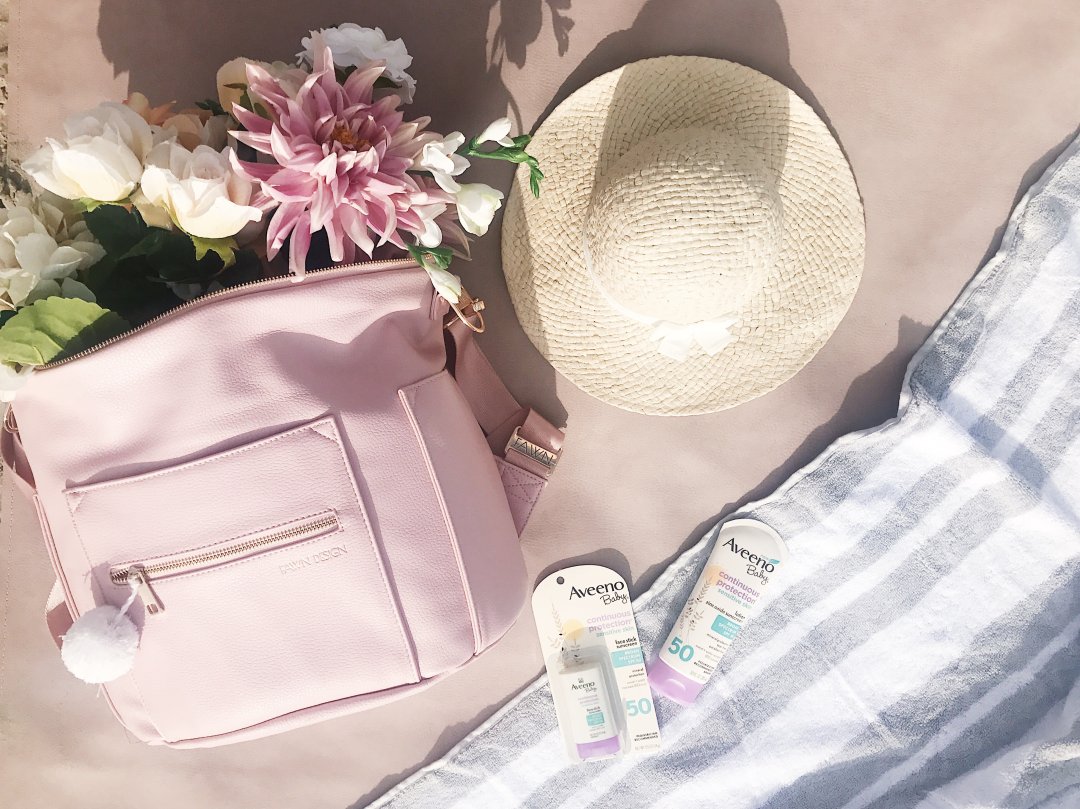 Hover over the image above to shop the Aveeno Baby Continuous Protection products on Walmart.com!
This post is sponsored by Aveeno. As always, all opinions are my own!
It's summer and beach season is well upon us! If you are a busy mom like me, you'll want to do a little prepping to make your day go as smoothly and efficiently as possible. We just got back from a fun beach day trip and I thought I would share with you some time saving ideas!
1. Pack a Beach Bag Ahead of Time
I did this last summer and it was a huge time saver for us. I used a basket this time to gather some beach essentials. I leave this basket in a closet all season long so the next time we are ready to jet, all my goodies are already in 1 place. Some of my favorites essentials to pack are: beach floats, sand toys, a sunhat, an extra outfit to change into, and beach towels.
We also made sure to stock up on Aveeno Baby Continuous Protection Sensitive Skin Zinc Oxide Sunscreen SPF 50. This sunscreen is formulated with oat to help soothe babies' soft and sensitive skin. It also uses zinc oxide to provide broad spectrum UVA & UVB protection. I love that it's tear free, lightweight and easy to put on. It didn't leave Kai's skin feeling sticky which she appreciated.
We used the Continuous Protection Sensitive Skin Face Stick for her cheeks, nose and forehead. It was easy to swipe this across her face, and the formula is free of all parabens, phthalates, dyes, fragrances and chemical sunscreen ingredients which puts my mind at ease. Kai's skin is so sensitive and she gets a rash easily. She wore the Aveeno Baby Continuous Protection Sensitive Skin line all day (with re-application of course) and didn't get a single bump! Yay!
2. Invest in a Wagon
When you are a pack rat like me, you probably have a hard time hauling all of your beach gear. Between the 2 beach floats, a beach bag, another diaper bag and endless drinks and snacks, our hands were more than full! To avoid multiple trips back to the car, I bought a collapsible wagon from the local sporting goods store and it saved our lives! With a baby on one arm, Kevin was able to hull the rest of our gear. It also kept us super organized.
3. Bring a Gallon of Water to Rinse
At the end of the day, we were of course covered in sand! Thank goodness, I thought of this ahead of time (kudos to mom ha!). I bought a big container of water with a twist spout at the end. We used this to rinse off all those extra rolls on Kai. She was smooth and comfortable for the ride home! Mamas, you'll get bonus points if you leave a pair of dry flip flops in the car for yourself to change into after rinsing your feet off!
I hope these simple tips helps you easily prepare for the next beach trip! Don't forget to stick a tube of Aveeno Baby Continuous Protection Sensitive Skin sunscreen in whatever bag you carry to keep the little nuggets protected from the sun!
xoxo
Joy